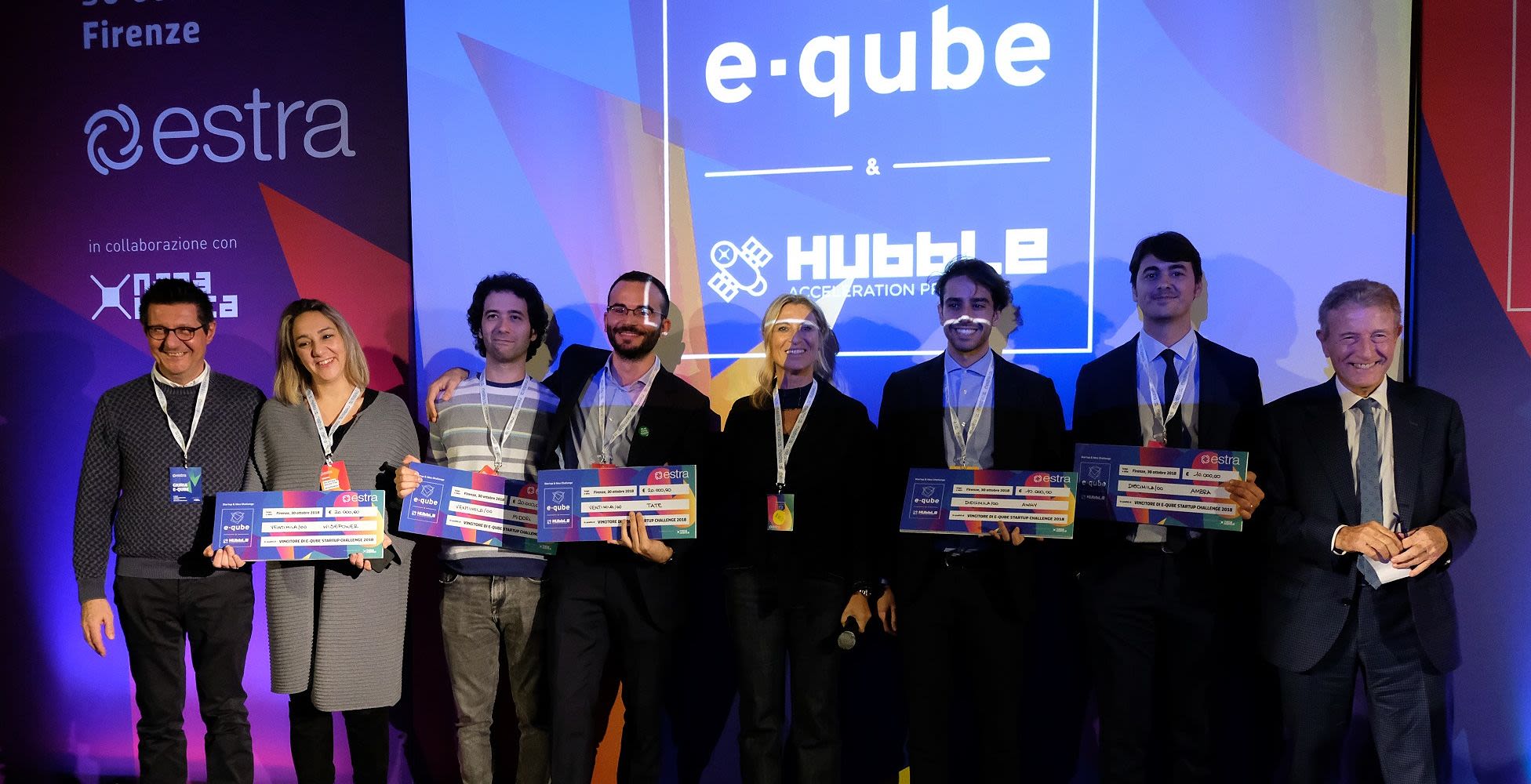 Midori, Tate, Wisepower, Awhy, and Ambra are the five Italian startups that won the second edition of the international program "E-qube Startup & Idea Challenge", created and organised by Estra SpA - among the leading players in Central Italy for the distribution and sale of natural gas, active also in the sale of electricity - in collaboration with Nana Bianca - a business accelerator for the development of startup businesses and innovative digital realities.
The event, open to startups and groups present in Italy and abroad which have not become incorporated or limited companies yet, aims to promote the development of digital or technological-manufacturing projects or products with the highest level of innovation and market potential using digital formats and the network.
The identification of the five winning entrepreneurial realities was carried out by sector experts nominated by Estra SpA and Nana Bianca starting from a list of 12 finalist projects: Tate, EcoSteer, Wisepower, Gimede, Midori, Ecomate, Ambra, Safety Environmental Engineering, High Performance Analytics, TOgenesis, Awhy, and Wiman.
The winning startups will participate in an ad hoc acceleration program and will receive an investment grant of €20,000 or €10,000 euros, which will be granted by Estra SpA for a total financial commitment of €80,000 euros.
The acceleration program, which represents a new addition to the second edition of "E-qube Startup & Idea Challenge", has been promoted by Estra and curated by Nana Bianca. The program includes 16 weeks of entrepreneurial training, subdivided into modules, in order to support business development and accelerate the startups involved, in synergy and integration with the core business of Estra.
A total of 174 startups participated in the international call for the selection of candidates, coming from 26 countries from all over the world, including Italy, Germany, the United Kingdom, China, India, Russia, the United Arab Emirates, Nigeria, Kenya, the United States, and Mexico.
The market areas of origin of the candidate startups were: Sharing & Circular Economy, Smart City Solutions, The Internet of Things, Energy Efficiency & Mobile, Retail Energy & Fintech, Mobility, Telecommunications, Machine learning & AI solutions, and Marketing & Communications.
" We are proud to be able to contribute to the development of a business culture based on the values of technological innovation and entrepreneurship, principles underlying the philosophy of Estra - stated the Managing Director of Estra, Alessandro Piazzi - It is with this spirit that we have created this ambitious program in collaboration with Nana Bianca. The E-qube Startup & Idea Challenge award once again shows our Group's attention to the startup universe, in particular the network of digital innovators whose development we promote with an open innovation perspective, thus becoming actors involved in change. "
The co-founder of Nana Bianca, Alessandro Sordi, explains that "the collaboration with Estra is proof that when the consolidated skills of large industrial groups are combined with the innovative dynamism of technological startups, we obtain the best possible result for both". "Digital technologies are also transforming the energy sector, in particular in regard to its relationship with consumers, who can now manage services and control everything remotely via their smartphones. In these aspects, the contribution of startups can be decisive for the birth of new products and services."
Here are the winners:
Midori
Tate
Wisepower
Awhy
Ambra